Karela khata meetha
INGREDIENTS:
300 gms bitter gourds
2 onions sliced
100 ml mustard oil
Salt
1 tsp haldi powder
1 tsp roasted jeera powder
Half tsp amchur powder
2 tsps powdered sugar
4 cloves garlic
1 inch piece ginger
Slice the karela with the skin into thin circular slices. Slice the onions too. Cho the ginger and garlic into tiny pieces.  Sprinkle salt on the karela pieces and keep aside for 20 minutes. Squeeze out all the excess water. Heat oil and add the onions, ginger garlic and salt to taste. Fry over low heat stirring from time to time for 3-4 minutes. Mix in the spices including the amchur and sugar. Cover with a lid and cook on very low fire till the karela is tender. Serve with roti.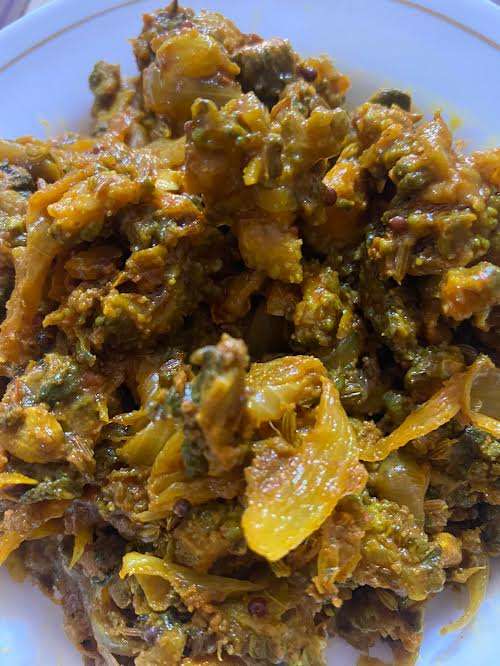 Lauki ke kofte
INGREDIENTS:
For the koftas
1 medium sized lauki – bottle gourd
4-5 tbsps besan
3 chopped garlic cloves
1 tsp green chillies paste
Salt
2 pinches haldi powder
Oil for deep frying
For the gravy
6 tbsps browned onion
2 tsps ginger garlic paste
3 tbsps tomato purée
Salt
1 tsp turmeric powder
2 tbsps coriander powder
2 tsps roasted jeera powder
Half tsp red chillies powder
Fresh coriander for garnishing
To make the pakoras:
Peel the lauki and grate. Squeeze in between your palms to remove all the excess water. Keep in a mixing bowl. Add the besan and the spices to the grated lauki and mix well to obtain a dry mixture. Heat oil for deep frying. Drop small portions to fry pakoras. Fry few at a time till golden brown. You can serve these pakoras as tea time snacks.
For the gravy:
Remove most of the oil keeping 3 tbsps in the kadhai. Heat the oil and add the pastes and spices. Cook over medium heat for 2 minutes. Mix in the purée. Stir gently. Add 2 cups of water and bring to a boil. Allow to simmer. Put the pakoras and put off the heat immediately. Serve at once garnished with fresh coriander leaves.