Raw banana and coconut kebabs
INGREDIENTS:
5-6 raw bananas
2 medium sized potatoes boiled and mashed
Salt
1 cup sattu flour – roasted Bengal gram
2 tsp garlic paste
2 tsp green chillies paste
3 tbsps freshly grated coconut
3 tbsps spring onions chopped
Oil for pan frying
Boil the bananas with the skin till soft. You can use a pressure cooker for this. Cool, peel off the skin and use only the inside of the banana which is now soft. Place in a mixing bowl together with the mashed potatoes. Add the sattu flour, pastes and salt and mix well.  Add the coconut and spring onions and mix again.
Once the mixture is blended well it should be able to bind well. You may need to add a few spoons more of the sattu flour for binding.
Divide the mixture into portions. Shape each portion into a round tikkie. Flatten with your palms and fry on a tava with little oil. Serve hot.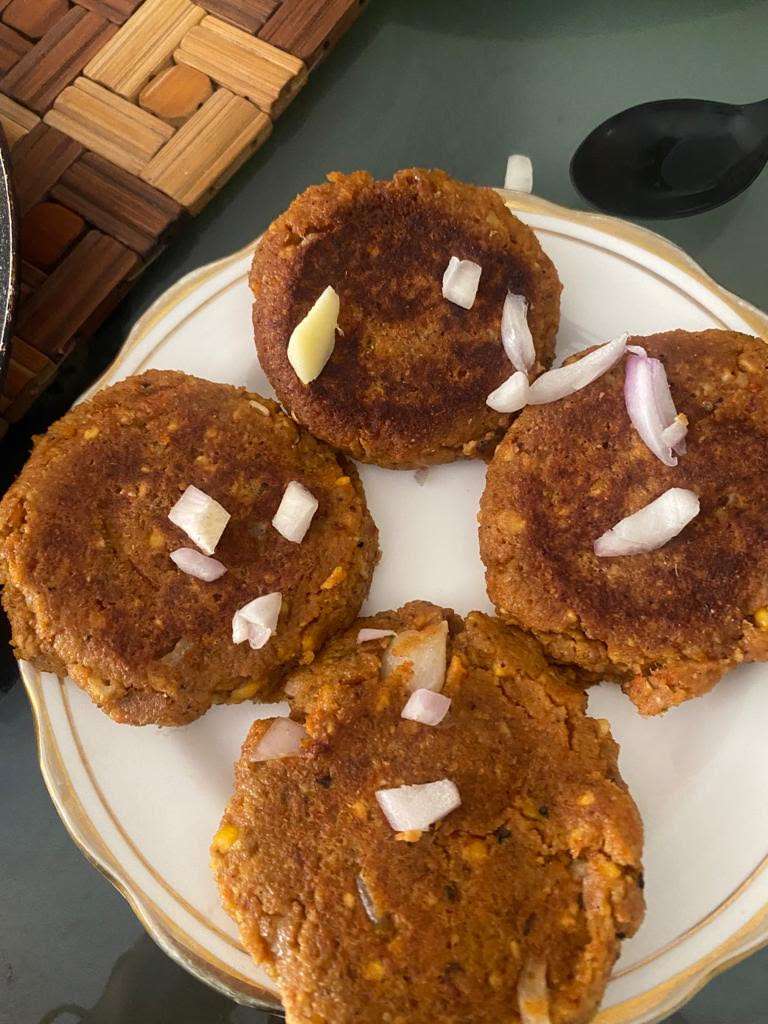 Vegetable biryani with potato salad
INGREDIENTS FOR THE BIRYANI:
2 cups long grained basmati rice
Salt
Half inch piece cinnamon
2 cloves
3 cardamoms
3 tbsps ghee
For the vegetables
4 cups of chopped vegetables including mushrooms, bean, carrots, peas , capsicum
Salt
3 tsp biryani masala
5 tbsps of ghee
For the layering
2 tsps biryani masala
2 tsp kevra water
4 tsps of lemon juice
3-4 tsps of saffron- milk mixed with few strands of saffron
3 tbsps melted ghee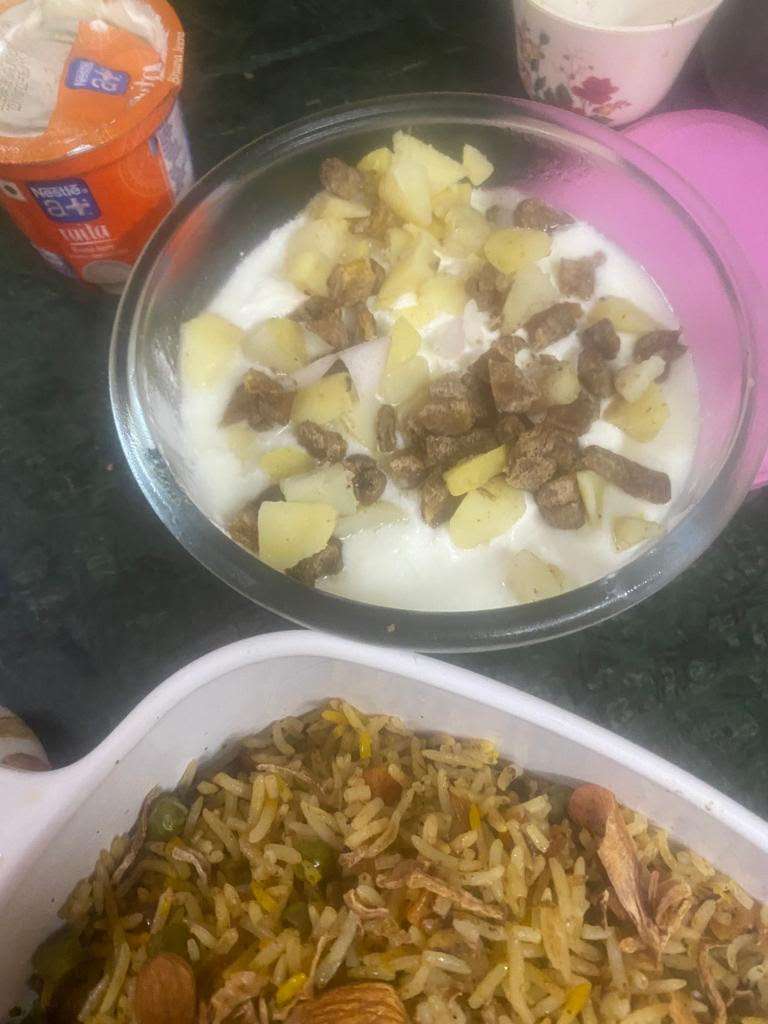 INGREDIENTS FOR GARNISHING
1 cup fried onions
Mint leaves 7-8
200 gms of dried fruits
Soak the rice in water for one hour. Drain and keep aside. Heat 300-350 ml of water and add the whole spices.  Allow the water to boil. Lower the heat and add the washed drained rice together with 2 tsps of salt. Cook the rice over medium flame till rice is 95 percent cooked. Drain out all the water, preferably using a strainer.  Sprinkle the ghee. Mix gently and keep aside.
Now prepare the veggies by heating the ghee, adding the veggies, salt and biryani masala and cooking over low heat covering with a lid. Cook till veggies are tender but firm and not over cooked. Put off the heat and keep aside.
Now get ready to layer the biryani. Divide the rice into three portions. First portion add lemon juice, second portion add the biryani masala and third portion the saffron mix.
Take a thick bottomed pan and place half the quantity of each portion. Now place half the quantity of cooked veggies. Now repeat the process with the last layer being the saffron rice. Now sprinkle the kevra, mint leaves, melted ghee, fried onions and dried fruits. Cover with a tight fitting lid. Place on very low heat preferably we recommend you place the biryani pan on a tava so that the biryani is on 'dum' over v low heat. Place on 'dum' for 20 minutes and serve hot with potato salad.
Potato and raisin salad
400 ml thick curd – beaten
4-5 tbsps sugar syrup
2 boiled peeled potatoes
Salt
200 gms raisins
Half tsp roasted cumin powder
Add salt to taste in the boiled chopped potatoes. Place in a serving bowl. Mix in the beaten curd, jeera powder and sugar syrup and mix gently. Serve cold garnished with raisins