Sewai kheer with coconut
INGREDIENTS:
1 litre milk
150 gms sewai – vermicelli
3 tbsps ghee
4-5 tbsps sugar as per taste
Half tsp cardamoms powder
3 tbsps chopped almonds
1 cup fresh coconut diced
Bring the milk to boil in a thick bottomed pan. On low fire reduce it to three fourths of its quantity, stirring from time to time. In the meantime, roast the sewai in ghee till it is a light golden brown. Add this to the reduced milk and continue to stir and cook till sewai is soft and milk is reduced to less than half. Add the almonds. Put off the heat. Cool to room temperature and add the diced coconut and serve chilled.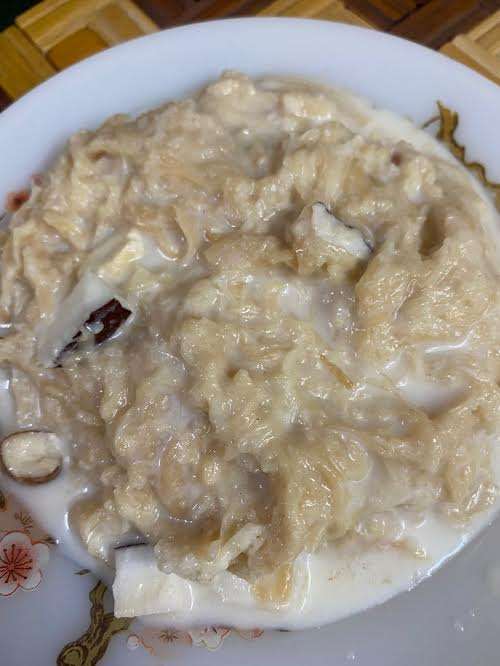 Dum Aloo
INGREDIENTS:
500 gms small sized potatoes
Salt
Oil for deep frying
1 cup tomato purée
2 tbsps ginger garlic paste
2 cups browned onion paste
2 tsps red chilly paste
2 tsps roasted jeera powder
1 tsp turmeric powder
1 tsp anar dana powder
1 tsp garam masala powder