Stuffed Parwal/Potoler dolma
INGREDIENTS:
7-8 pieces of Parwal/ Potol/pointed gourd
1 cup mustard oil
2 bay leaves
2 dried red chillies
1 tsp turmeric powder
1 tsp cumin paste
2 tbsps coriander paste
2 tsps ginger paste
1 tsp red chilly paste
Salt
3 tbsps poppy paste
1 tbsp mustard paste
1 tsp sugar
For the filling
INGREDIENTS:
200 gms grated paneer
Salt
Half tsp red chilly powder
Half tsp turmeric powder
Half tsp roasted jeera powder
Half tsp sugar
4 tbsps mustard oil
Wash the Parwal, scrape lightly. Make a slit on top and scoop out each parwal's seeds. Heat oil and fry the Parwal on medium heat till golden brown and half tender. Keep aside.
Remove the oil keeping 2 tbsps in the pan. Prepare the filling in this oil. Add the paneer. Mix in the spices and stir gently on low fire for 2-3 minutes. Keep the filling aside and cool to room temperature. Fill each of scooped Parwals with the filling.
Prepare the gravy by heating the remaining oil. Add all the pastes and spices and cook on low fire for 2-3 minutes. Add 2 cups of water bring to a boil. Add salt to taste and add the stuffed Parwals and allow to simmer till gravy thickens. Adjust the consistency to your choice. Once the gravy thickens serve with plain rice.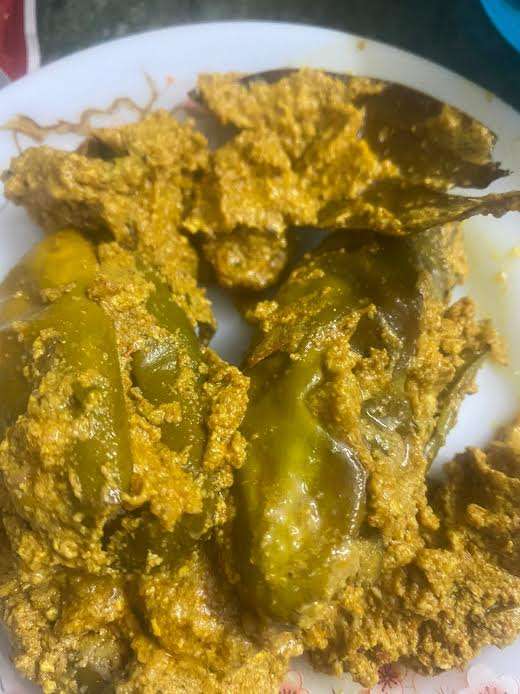 Dhokar dalna
INGREDIENTS:
For the Dhoka
150 gms chana dal
3 cloves garlic
Salt
2-3 pinches sugar
1 tsp green chilly paste
3 tbsps oil
Mustard oil for deep frying
For the gravy
2 tbsps browned onions
2 tsp ginger paste
2 tsp red chilly paste
2 tsps roasted cumin paste
2 tbsps coriander paste
1 tsp sugar
1 tsp turmeric powder
Prepare the dal cakes: Soak the chana dal in water for 3 hours. Drain out the water and grind to a wet paste together with the garlic.  Heat the oil, add the dal paste and cook on low fire. Stir and cook adding sugar, green chilly paste. Stir till there is no water and the dal mixture is dry. Grease a rimmed thali and place the mixture on the thali. Pat with your fingers to smoothen the surface. Allow to set. Keep aside for 1 hour. Cut into triangles or squares. Deep fry in mustard oil a few at a time. Fry the dal cakes till golden brown. Keep aside.
In the same kadhai, prepare the gravy.  Keep 2 tbsps of oil and fry the pastes. Add the spices and fry on low fire till oil leaves the sides. Add 2 cups of water and allow to simmer. At this stage add diced potatoes which have been fried separately. Adding potatoes is optional. Allow the gravy to simmer. Mix in the dal cakes and put off the heat immediately. Garnish with chopped coriander leaves.