Spinach and corn tarts
INGREDIENTS:
For the tarts
200 gms maida
150 gms butter
2 punches salt
2 tbsps of milk
For the filling
2 cups chopped spinach
100 gms corn niblets
3 tbsps cream
3 tbsps white sauce
Pinch of salt
Half tsp pepper powder
2 cups grated cheese
To prepare the tarts: Sift all the ingredients and knead into a stiff dough adding very little water if required. Wrap in a cling film and keep in the fridge for 1 hour. Take a muffin mould. Divide the prepared dough into portions. Roll out each portion to a chapati big enough to fit each muffin mould from all sides in the inside to form a cup. Heat an oven and bake the tarts in the pre heated oven for 15-17 minutes or until the tarts are a light golden brown. Allow to cool in the oven.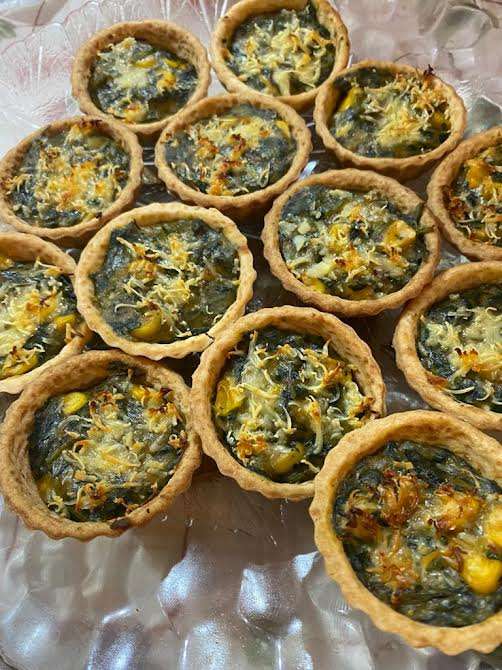 In the meantime, prepare the stuffing. Mix all the ingredients together and place a small portion of the filling inside the cooled baked tarts. Now bake the filled tarts in a pre-heated oven at 160 degrees till the cheese in the stuffing has melted and the egg batter set. This should take 7-8 minutes. Serve warm or at room temperature.
Mushroom puffs
INGREDIENTS:
For the filling:
200 gms of button mushrooms cut into tiny pieces
150 gms of grated Parmesan cheese
1 tsp oregano powder
Half tsp pepper powder
For the puff parcels:
200 gms maida
3 pinched of sodi bi carb
160 gms butter
2tbsps melted ghee for brushing on the puffs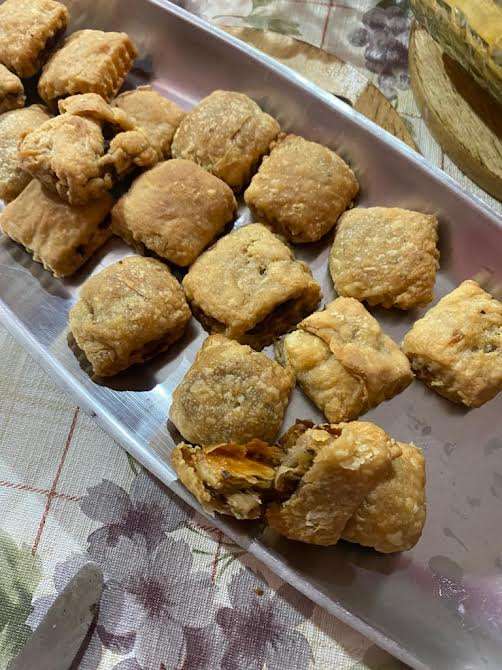 Sift the maida and sodi-bi carb. Add the butter and very little water to knead into a dough. Wrap with foil and keep in fridge for 2 hours. Divide into 3 portions. Roll out each portion into a circular chapati of quarter inch thickness. With the tip of a knife cut strips which are 2 inches in breadth. Cut these into lengths of 1 inch each. Place a small portion of the mushroom filling in the centre of the 1 inch by 2 inch strips. Cover from all sides in form of a parcel. Brush with oil and put to bake in a pre-heated oven for 12-15 minutes till golden brown on top. Allow to cool and serve as a snack on room temperature.
******************************************************************
Readers
These are extraordinary times. All of us have to rely on high-impact, trustworthy journalism. And this is especially true of the Indian Diaspora. Members of the Indian community overseas cannot be fed with inaccurate news.
Pravasi Samwad is a venture that has no shareholders. It is the result of an impassioned initiative of a handful of Indian journalists spread around the world.  We have taken the small step forward with the pledge to provide news with accuracy, free from political and commercial influence. Our aim is to keep you, our readers, informed about developments at 'home' and across the world that affect you.
Please help us to keep our journalism independent and free.
In these difficult times, to run a news website requires finances. While every contribution, big or small, will makes a difference, we request our readers to put us in touch with advertisers worldwide. It will be a great help.
For more information: pravasisamwad00@gmail.com