The Webinar served as a soft publication launch for the 7th CIBAFI Global Islamic Bankers' Survey (GIBS) Report.

 
Manama, Kingdom of Bahrain: The General Council for Islamic Banks and Financial Institutions (CIBAFI), the global umbrella of Islamic financial institutions successfully held on Monday, June 20, a Webinar on "Women's Economic Empowerment: The Role of Islamic Financial Institutions in Bridging Existing Gaps".
 The Webinar served as a soft publication launch for the 7th CIBAFI Global Islamic Bankers' Survey (GIBS) Report. 
This year's GIBS Report is themed "Women Empowerment: Evaluating the Current Practices and Challenges". The report aims to gauge women empowerment in the Islamic banking industry, assessing its perceived importance and the measures taken by Islamic banks for empowering women, both in the workplace and as customers.
Financial institutions can play a critical role in advancing women's economic empowerment through focusing on many different approaches. These approaches include promoting female talent within institutions, developing financial services and digital offerings to increase women's access to finance, and ensuring fair opportunities for women working in the industry. 
In addition to contributing to global development goals, focusing on women's empowerment can create new business opportunities. Islamic finance is one of the leading sectors which highlights the importance of empowering women in the economy through its values that support equality and wealth creation.
The findings of the GIBS showed an overall positive outlook on women's empowerment in the Islamic financial services industry. The survey revealed that women empowerment was mostly in the workplace.

 
It also showed that large Islamic banks in particular, were generally more active in philanthropic initiatives to empower women, probably reflecting the greater resources available to them.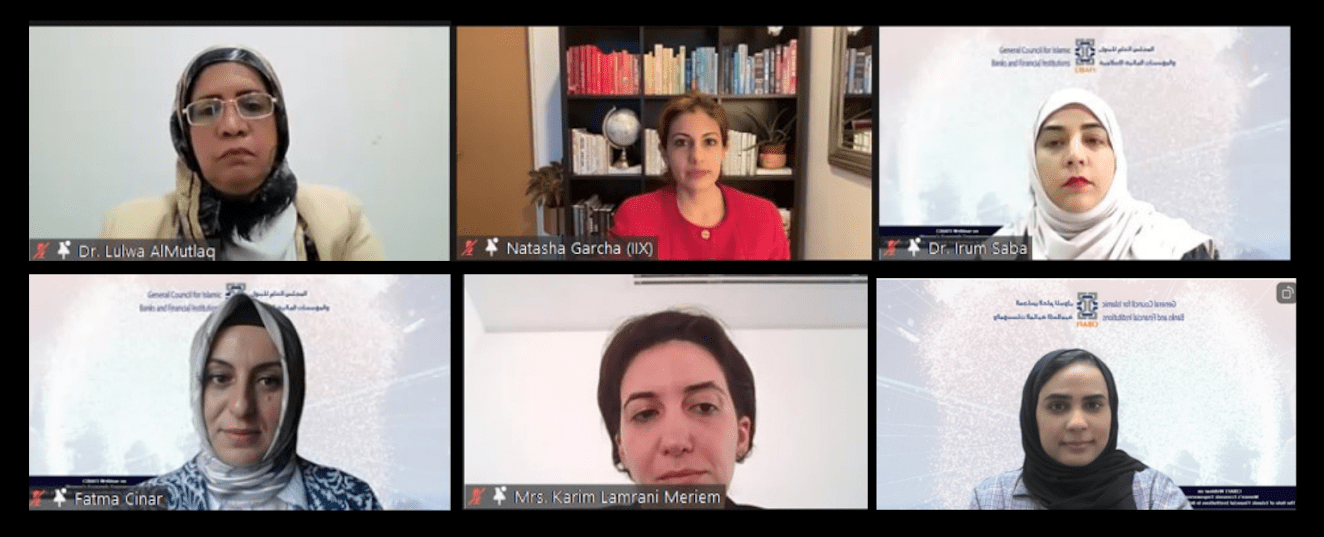 The webinar was inaugurated by welcoming remarks from Dr. Abdelilah Belatik, Secretary General of CIBAFI. It also featured keynote speeches from H.E. Prof. Dr. Koutoub Moustapha Sano, Secretary General, International Islamic Fiqh Academy, Saudi Arabia; and H.E. Dr. Maryam Buti Al Suwaidi, Chief Executive Officer, Securities and Commodities Authority, United Arab Emirates.
Commenting on the GIBS 2022 Report, Dr. Belatik said: "CIBAFI is continually seeking to address the industry's most pressing concerns and trends. We believe that one of the most essential aspects that could aid economic development is women empowerment. This year's CIBAFI annual report focuses on three dimensions of women's economic empowerment: the first focus is on women's empowerment in the workplace, the second on women as customers, and the last looks at women's economic empowerment through philanthropy. Many Islamic banks consider women's empowerment to be vital, and they are currently pursuing it through various initiatives. However, it is also acknowledged that significant challenges remain, and that overcoming the gaps in this area will require a broader understanding. We hope that the findings of this survey will contribute to women's economic empowerment in the global Islamic financial services industry."
 The opening session was followed by a presentation on the main findings of the GIBS 2022 Report by CIBAFI Consultant, Mr. Peter Casey.
The panel session explored and shared insights and experiences of industry experts and women leaders regarding the role of Islamic financial institutions in achieving women's economic empowerment. The panelists included  Dr. Lulwa AlMutlaq, Founder & President, Golden Trust, Bahrain; Ms. Natasha Garcha, Senior Director, Innovative Finance and Gender-Lens Investing Specialist, Impact Investment Exchange (IIX), Singapore; Dr. Irum Saba, Associate Professor and Program Director, Institute of Business Administration Karachi, Pakistan; Ms. Fatma Çinar, Islamic Finance Portfolio Lead, Istanbul International Center for Private Sector in Development (IICPSD), United Nations Development Programme, Turkey; and Mrs. Meriem Lamrani Karim, Head of Prudential Regulation Unit, Bank Al-Maghrib, Morocco. The session which also covered discussions on the critical enablers of women's economic empowerment and the barriers that hinder its achievement was moderated by Mrs. Zainab Al Owainaty, Director of Administration and Finance at CIBAFI.
CIBAFI continues to support the Islamic financial services industry through various activities and initiatives. These initiatives include providing industry stakeholders with a platform to discuss emerging issues, representing the industry at major global financial events, and sharing knowledge through specialized publications and comprehensive training programmes.
About CIBAFI: 
General Council for Islamic Banks and Financial Institutions is an international non-profit organization founded in 2001 by the Islamic Development Bank (IsDB) and a number of leading Islamic financial institutions. It is an affiliated organ to the Organisation of Islamic Cooperation (OIC). With over 130 members from more than 34 jurisdictions all around the world, CIBAFI is recognized as a key piece in the international architecture of Islamic finance. 
Its mission is to support the Islamic financial services industry (IFSI) by providing specific activities and initiatives, aiming to strengthening the growth of the industry, deepening Shariah objectives in financial dealings and transactions, and facilitate cooperation between members and institutions of common interest. CIBAFI office is located at Jeera III, 5th Floor, Office 51, Building 657, Road 2811, Block 428, Manama, Kingdom of Bahrain.
*******************************************************
Readers
These are extraordinary times. All of us have to rely on high-impact, trustworthy journalism. And this is especially true of the Indian Diaspora. Members of the Indian community overseas cannot be fed with inaccurate news.
Pravasi Samwad is a venture that has no shareholders. It is the result of an impassioned initiative of a handful of Indian journalists spread around the world.  We have taken the small step forward with the pledge to provide news with accuracy, free from political and commercial influence. Our aim is to keep you, our readers, informed about developments at 'home' and across the world that affect you.
Please help us to keep our journalism independent and free.
In these difficult times, to run a news website requires finances. While every contribution, big or small, will makes a difference, we request our readers to put us in touch with advertisers worldwide. It will be a great help.
For more information: pravasisamwad00@gmail.com