Ghugni is a popular curry made in Bihar which complements the the chatpata Poha namkeen to the core,The combination of chatpata Poha namkeen, Kachri and Ghugni is most popular street food and is a perfect for Diwali snacking when everyone is offering only sweets, Bengal gram is a very good source of Iron and protein both. This curry can be eaten with pooris / paranthas as well.
Preparation time:8 hours
Cooking time: 45 Minutes.
Ingredients:
Bengal gram: 250 gms (Soaked in salted water for 8 hours)
Onion: medium 6 in Nos. (finely chopped longitudinally)
Tomato : medium 3 in Nos (finely chopped)
Bay leaves: 2 in nos.
Red chili: 2 in nos.
Cumin seeds: ½ tsp
Black cardamom whole: 1 in nos.
Green chili: 2 (chopped)
Garlic: 10 cloves (paste)
Turmeric powder: ½ tsp
Coriander powder:2 tsp
Cumin powder: ½ tsp
Garam masala: 1 tsp
Black pepper powder:½ tps
Salt: To taste
Mustard Oil: 4 tbsp.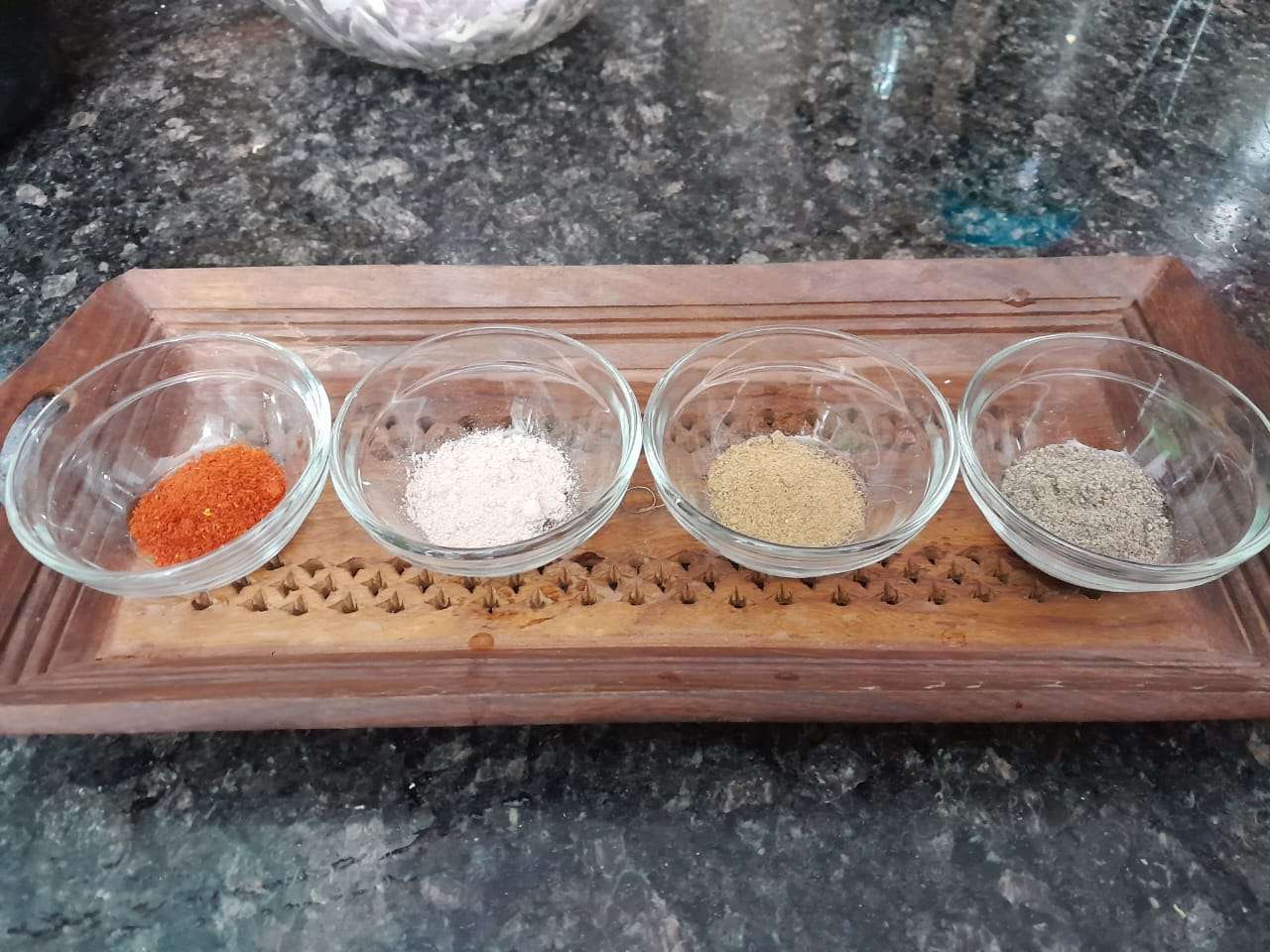 Cooking steps:
Wash the soaked Bengal gram with fresh water and pressure cook it with a little Salt and turmeric powder in one cup of water, until it turns soft (4-5 whistles on medium flame). Remove the water and keep the boiled grams aside.
On a separate burner, heat a Pan and add mustard oil, when the oil is heated, put the flame on medium and add all the tadka spices  (seasoning) Cumin seed, bay leaf, red chili whole and black cardamom to the oil, let it crackle. Now add the chopped onion and stir it occasionally. Keep stirring till it turns golden brown. Now add salt, turmeric powder and chopped tomatoes to the pan and keep string with a ladle occasionally. In a small bowl add Garlic paste and all the spices add half cup of water mix it well and keep aside. When the tomatoes are done completely, add the spices to the pan and cook it until the mixture leaves oil. Now add the boiled  Grams to the pan and cook for some time. Add a little salt to adjust as per the taste. Now shift the ingredients in a pressure cooker again, add two cups of water and ½ tsp of garam masala and cook for two more whistles. When it cools down add 1 tsp of ghee and serve with Chatpata Poha namkeen, Kachri. Enjoy this unique desi snack with your loved ones on the auspicious day of Diwali.   
*********************************************************************
Readers
These are extraordinary times. All of us have to rely on high-impact, trustworthy journalism. And this is especially true of the Indian Diaspora. Members of the Indian community overseas cannot be fed with inaccurate news.
Pravasi Samwad is a venture that has no shareholders. It is the result of an impassioned initiative of a handful of Indian journalists spread around the world.  We have taken the small step forward with the pledge to provide news with accuracy, free from political and commercial influence. Our aim is to keep you, our readers, informed about developments at 'home' and across the world that affect you.
Please help us to keep our journalism independent and free.
In these difficult times, to run a news website requires finances. While every contribution, big or small, will makes a difference, we request our readers to put us in touch with advertisers worldwide. It will be a great help.
For more information: pravasisamwad00@gmail.com